13 Day New Zealand East Coast Wine Tour
Enjoy some of New Zealand's world famous wines as you travel through the wine growing regions Waipara, Marlborough, Martinborough, Napier & Waiheke Island.
13 Day New Zealand East Coast Wine Tour
Beginning in Christchurch, travel to some of the 'must see' spots along the East Coast of New Zealand as you plonk yourself down to enjoy some fine wines and delicious food.
| | |
| --- | --- |
| Tour Type: | Self Drive Tours |
| From: | Christchurch to Auckland |
| Departs: | Daily |
| Duration: | 13 days |
| Tour Code: | SD13ECW |
Regions Visited
Click on the region name to view more information about the region
Christchurch, Kaikoura, Blenheim, Picton and Marlborough Sounds, Wellington, Martinborough, Napier, Rotorua, Auckland, Waiheke Island
Tour Inclusions
13 Day car hire

12 nights accommodation
Superior & Premium accommodation includes breakfast
Blenheim wine tour
Martinborough wine tour
Napier wine tour
Waiheke Island wine tour
Day By Day Itinerary
DAY 1: WELCOME TO CHRISTCHURCH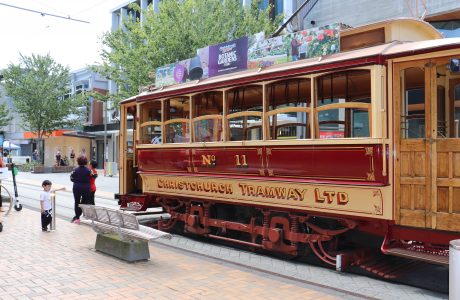 Arrive in Christchurch and collect your rental car. You have this afternoon to explore the "Garden City". Christchurch offers a lively range of attractions and activities, from a stroll around Hagley Park and its beautiful botanical gardens to a vintage tram or double decker bus tour of the city centre.
Stay: Christchurch
DAY 2: CHRISTCHURCH / KAIKOURA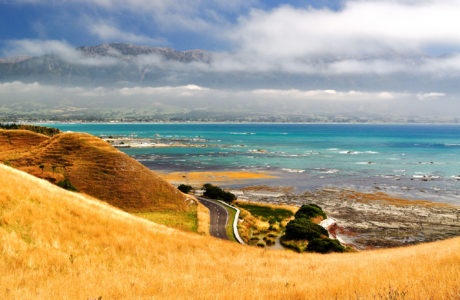 Today cross the Waimakariri River as you drive northwards across the Canterbury Plains. Enjoy the vineyards of the Waipara region, rolling sheep and beef farmland. Follow the rocky coastline with amazing ocean views as you reach magical Kaikoura, where the mountains meet the sea. Few places in the world can boast such natural wonders as those offered by land and sea in Kaikoura.
Stay: Kaikoura
DAY 3: KAIKOURA / BLENHEIM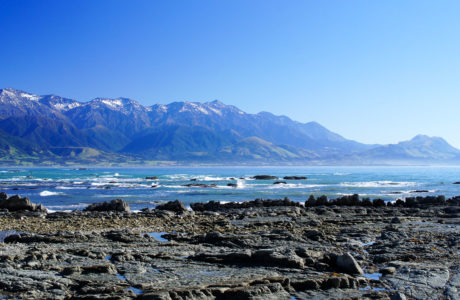 Leaving behind the rocky coastline and ranges of Kaikoura, continue up the coast line where numerous look out points allow for basking seal spotting opportunities. Continue onwards where you become surrounded by the hillside vineyards of Blenheim, the bustling wine town.
Stay: Blenheim
DAY 4: BLENHEIM WINE TOUR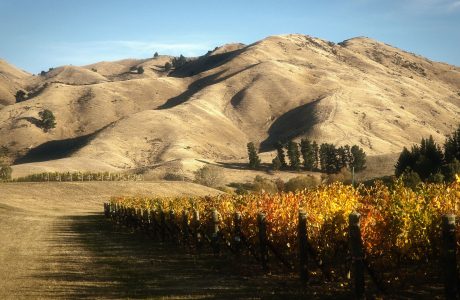 Indulge your senses with a full day exploring behind the scenes of the world-renowned Marlborough wine region. You'll visit a number of Marlborough wineries where you'll taste award-winning Marlborough wines, explore beautiful vineyards, options to enjoy a winery lunch.
Stay: Blenheim
DAY 5: BLENHEIM / PICTON / WELLINGTON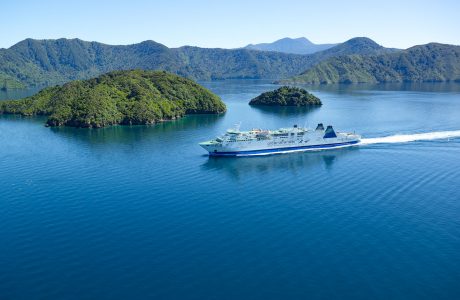 Pass sweeping lined vineyards of Blenheim and its Marlborough region, enjoy a short drive through expansive rural plains and rolling hills onto the picturesque shores of Marlborough's seaside town of Picton. Here you will board your cruise, leaving behind the sheltered waters of Picton Harbour, through the magical Queen Charlotte Sound and Tory Channel crossing the Cook Strait to Wellington Harbour. Wellington's hillside suburbs and vibrant waterfront retail and commercial hub welcome you to the "coolest little capital in the world".
Stay: Wellington
DAY 6: WELLINGTON / MARTINBOROUGH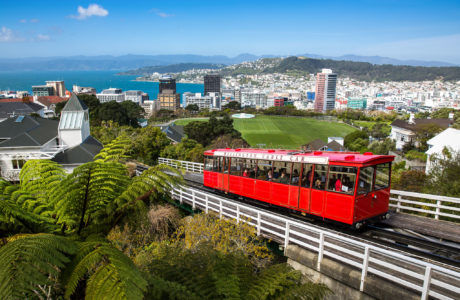 From Wellington, you'll wind through the picturesque Hutt Valley descending into the tranquillity of the Wairarapa region. Drive through the township of Featherston, before arriving in the wine village of Martinborough, at the heart of the Classic New Zealand Wine Trail.
Stay: Martinborough
DAY 7: MARTINBOROUGH WINE TOUR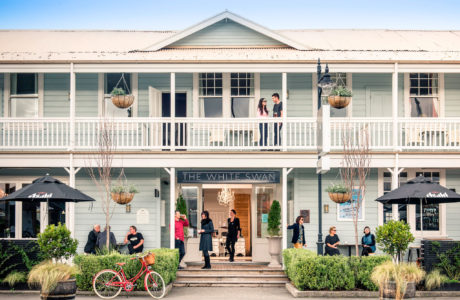 Sit back and relax today, meet your local guide who will drive you through the countryside. Indulge in wine tastings at four award winning vineyards, passing rolling vistas of vineyards before returning back to Martinborough to enjoy mouth watering, local gourmet cuisine and sweet treats.
Stay: Martinborough
DAY 8: MARTINBOROUGH / NAPIER
Enjoy charming Greytown (famous for its chocolate shop) and the Scandinavian-settled towns of Dannevirke and Norsewood. Napier's trademark is its art deco and Spanish mission style buildings, an architectural style it adopted after the devastating earthquake of 1931. Rich arts culture and vast surrounding vineyards boasting world-renowned wine labels make Napier a popular destination.
Stay: Napier
DAY 9: NAPIER WINE TOUR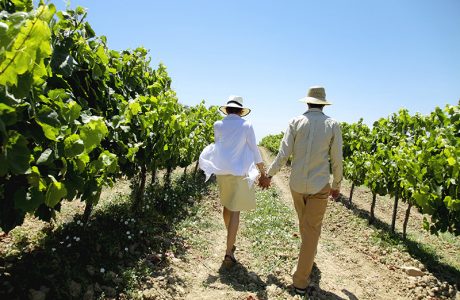 Travel through the country's oldest winemaking region and taste award winning wines. Learn about Wine and Food Matching while indulging in a platter with the finest local produce such as meats, cheese, marinated vegetables, breads, dips and more.
Stay: Napier
DAY 10: NAPIER / ROTORUA
Pass pockets of farmland and vineyards as you leave the Hawke's Bay region. The Kaimanawa Forest Park and several conservation areas provide for a tree-lined drive much of the way until you reach Taupo on the shores of New Zealand's largest lake. The geothermal reserves of Wai-O-Tapu and Waimangu Thermal Valley provide sightseeing options before reaching the geothermal city of Rotorua.
Stay: Rotorua
DAY 11: ROTORUA / AUCKLAND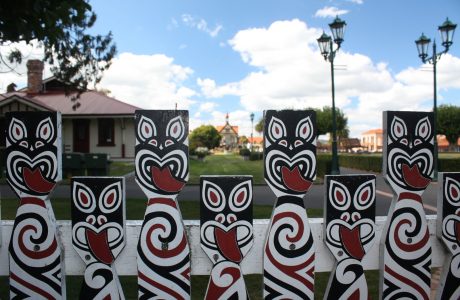 Travel through rural countryside of the Rotorua region – select from an option of routes, travel via Matamata to explore the land of Hobbiton or perhaps via the town of Hamilton that straddles the Waikato, with an optional trip to view Waitomo, home to its famous glowworms and mystical caves before continuing onto Auckland.
Stay: Auckland
DAY 12: WAIHEKE ISLAND WINE TOUR
Another relaxing day today, enjoy a ferry ride to Waiheke Island. On arrival you will be met by your driver and embark on your tour. Taste the best of Waiheke Island in one day, you'll visit some of the island's most iconic destinations. Later returning back to downtown Auckland.
Stay: Auckland
DAY 13: FAREWELL FROM AUCKLAND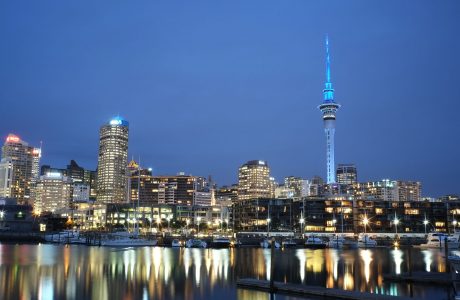 You have the day at leisure if time permits for last minute sightseeing before you return your rental car at Auckland Airport before your departure.
No matching reviews found.
Prices valid from 1st October 2020
Prices are per person and in New Zealand Dollars.
Tour Type: Self Drive Tour
A Self Drive tour allows you to travel at your own pace on one of our comprehensive itineraries. Our experienced New Zealand based travel consultants have planned each itinerary to ensure practical driving times while allowing you the freedom for photo opportunities as you travel. Your accommodation and car hire is pre-booked and we are happy to include optional activities to coincide with driving times.
Frequently Asked Questions – Self Drive Tours
What is a Self Drive tour?
A Self Drive tour allows you to travel at your own pace on one of our comprehensive itineraries. Our experienced New Zealand based travel consultants have planned each itinerary to ensure practical driving times while allowing you the freedom for photo opportunities as you travel. Your accommodation and car hire is pre-booked and we are happy to include optional activities to coincide with driving times.
What is required to hire a vehicle within New Zealand?
A valid driver's licence in English is required to hire a rental vehicle within New Zealand.  Please note drivers must be over 21 years to hire a vehicle, between 21 – 25 years a young driver surcharge is applicable. We recommend all clients have a credit card for car rental, the card number is then held for a bond. All vehicles are automatic transmission, we do not offer manual transmissions.
What is driving in New Zealand like?
We drive on the right in New Zealand, all rental vehicles are set up for right hand drive. Within the cities, roads are busy, there are motorways and highways. Once out of town most of our roads two lanes, there are some divided carriage ways, however most driving will be on 2 lane paved/sealed roads. It will take you a lot longer than you think looking at the map to get from point A to point B.
What dates do your tours depart?
Our self drive tours depart daily, driving times do vary each day so please consider this when booking departure flights.
What is included in the tour cost?
All tours include accommodation and rental car. Some tours include activities listed in the itineraries. Car hire is quoted including basic insurance, with the option to upgrade to fully comprehensive insurance.  A detailed travel wallet with your travel vouchers will be sent to your arrival accommodation, a comprehensive itinerary will be sent to you prior to your departure. Your personal travel consultant will contact you on arrival, allowing ease of communication whilst you are traveling.
What is not included in the tour cost?
Expenses of a personal nature such as meals (except where stated in the itinerary), beverages, travel insurance, fuel, laundry and optional sightseeing (except where stated in the itinerary) are not included in the tour cost.
How many people can I include in a self-drive tour?
Our largest hire vehicle is 9 passengers and a driver. You can travel in a group, with a number of vehicles but each vehicle must have a licenced driver.
I am travelling with children, what price will I pay?
Please contact us for information on child fares, as these vary based on the specific product you require. Some sightseeing activities are unsuitable for children.
Are any meals included in the tour cost?
Our Superior and Premium tour rates include breakfast.  There are exceptions where some activities will include lunch or dinner. We are more than happy to make recommendations, please advise if there are any dietary requirements so we can recommend accordingly. .
Is Halal and other speciality food available in New Zealand? 
Along with a small population of Muslims, New Zealand has an increasing number of Muslim visitors. Halal food and restaurants are now found in many areas of the country, let us now if you require this and we will compile a list for you. We can also offer advice in regards to Vegan and other special requirements.
How will I navigate my way around New Zealand?
You will be supplied with a map in your travel wallet. If you require a GPS, this can be arranged with your car hire, if you are wishing to use your own navigational device, SIM cards can be purchased at the airport. Our comprehensive itinerary will guide you, especially with our personal touches just for you. We are only a phone call away. Most pre booked optional activities will have an informative guide giving you an insight into the activity you have chosen.
Can I add in additional days to a tour?
Yes you can. All tours are very flexible – we will gladly work with you to make our tours suit your requirements. Please ask one of our Travel Consultants for extra day rates.
What is the difference between the three tour types Quality, Superior and Premium Tours?
Standard:  Motor Lodge, apartment style accommodation, self-contained accommodation, ensuite bathrooms. Your rental car is a small compact car.
Superior: 4 star hotel accommodation, includes breakfast. Your rental car is a mid-size car.
Premium: 5 star hotel accommodation, including breakfast. Your rental car is an SUV.
Note all accommodation is reviewed regularly by staff, we have high standards and good relationships with all our providers.
What if I cannot find exactly what I am looking for on the website?
Let us know what is on your wish list to see and do and we will be delighted to plan a customised tour to suit your requirements, using our 30 years of experience. Our local knowledge will come up with many pleasant surprises for you. 
How much luggage can I take on my tour?
You can bring as much luggage as you require, we recommend 1 piece of luggage (max 25kg each), for ease of travel. We also advise you check the maximum baggage allowance with your chosen airline.
How do I make a payment for a tour?
For bookings made more than 45 days prior to travel, Pacific Travel require a deposit of NZ$50 per person. This deposit is non-refundable. Balance of payment is due 45 days prior to travel. For bookings made 45 days or less prior to travel, full payment is required at the time of booking. Visa & MasterCard are accepted forms of payment. A 2.5% Credit Card Fee applies to all payments by credit card. You may pay via direct bank transfer to avoid the credit card fee. Bank details will be on your booking advice. All prices advertised are in New Zealand dollars and are GST inclusive.
What is your cancellation policy?
If after your booking has been confirmed you wish to cancel, the following cancellation fees will apply:
Cancellations 31 or more days prior to travel: Your deposit plus a further 10% of the total package price.
Cancellations 15 – 30 days prior to travel: Deposit + a further 20% of the total package price.
Cancellations 0-14 days prior to travel: 100% of total fare (no refund).
Booking amendments made by you: an amendment fee of 10% of total package price will be charged to cover our administration and communication costs. We may also need to pass on any amendment/cancellation fees imposed by our suppliers.
Conditions of travel
Pacific Travel reserves the right to alter fares, amend itineraries, book alternative accommodation or to cancel tours. Pacific Travel Ltd shall not be held responsible for any loss or damage to luggage or personal effects and/or damage resulting in death or personal injury, which may arise whilst travelling with Pacific Travel Ltd or its nominated suppliers. All transportation, both land and sea, is subject to the terms and conditions of the company providing the transport, some of which limit or exclude liability. These are available from the carriers concerned on request.
Will I need travel insurance?
We strongly recommend you purchase travel insurance. Factors may arise that require you to cancel or amend your holiday. It is essential you are covered for any costs that may be incurred. We recommend purchasing your travel insurance locally at the same time as you book your tour and flights.
Do I need to tip in New Zealand?
If you wish to reward someone for a job well done it is always much appreciated, but not a requirement. It is certainly not expected, nobody will be offended should you wish to.
Do I need a visa to visit New Zealand?
Most visitors to New Zealand do not require a visa to enter for the purpose of a holiday or vacation under the visa waiver program. If you do need a visa to visit New Zealand then you should contact the New Zealand consulate in your home country well before your departure date. We recommend you also check with your local travel agent or airline for any visa requirements to New Zealand particularly if you are passing through Australia.
What currency is used in New Zealand?
The New Zealand dollar is the only legal tender in New Zealand. View a guide between your local currency and the New Zealand dollar. Please note: Your tour and all purchases using a credit card in New Zealand will be charged in New Zealand Dollars (NZD) at the current exchange rate at the time of purchase. The above currency conversion page is to be used as a guide only.
13 Day New Zealand East Coast Wine Tour