7 Day Iconic North Guided Tour
Venture through the North Island from Auckland to New Zealand's capital, Wellington and revel in New Zealand most iconic sights. Enjoy a local connection with an exclusive By My Guest lunch on a private Waikato dairy farm. Learn insider knowledge from your experienced Travel Directors and immerse yourself in the Maori culture as you are invited for the evening at Tamaki Maori Village to experience the centuries-old traditions of New Zealand's Indigenous.
7 Day Iconic North Guided Tour
Venture through the North Island from Auckland to New Zealand's capital, Wellington and revel in New Zealand most iconic sights.
| | |
| --- | --- |
| Tour Type: | Group Tours |
| From: | Auckland to Wellington |
| Departs: | Selected dates |
| Duration: | 7 days |
| Tour Code: | ZAAW |
Regions Visited
Click on the region name to view more information about the region
Auckland, Rotorua, Taruanga, Taupo, Wellington
Tour Inclusions
Experienced Travel Director & Driver Guide
Comfortable accommodation
Travel by luxury coach
Airport transfers (flights to arrive by 4:00pm on day 1, flights to depart after 2.00pm on day 7)
Full buffet breakfasts (6)
Highlight dinner (1)
Dinner with wine (2)
Be my guest lunch (1)
Tauranga & Mt Maunganui
Immerse yourself in rich Maori Culture with a traditional Hangi
Explore Te Papa, the museum of New Zealand
* Please note: There is an itinerary change from 1 April 2021. Please ask for details.
Frequently Asked Questions – GroupTours
What is a Group tour?
What could be better than travelling with a group of like-minded people, on a coach tour operated by one of our preferred operators, AAT Kings or Grand Pacific Tours. You will be taken care of from your arrival into New Zealand through to your departure.
Do these tours departure every day?
The departure dates are stipulated on our website. Should a date not fit into your schedule, please contact us as we would gladly make alternative arrangements for you.
I am a single traveller, can I be matched up with another single traveller in a twin room?
Yes, you can pay on a share twin basis. You will be matched with a fellow traveller of the same gender, however we are unable to guarantee compatibility.
What is included in my tour?
5 star coach transportation, experienced coach captain with full commentary, some tours include a tour manager. Accommodation, activities and meals as stipulated in the itinerary.
Can I join or leave a tour part way through?
Yes, should you wish to we can arrange this for you. However, there will be no deduction in the cost for unused services.
Does the tour include transfers on arrival and departure?
You will be met on arrival at the airport and transferred to the tour hotel to meet your fellow travellers. At the completion of the tour you will be transferred to the airport in ample time for your departure flight.
Can I add accommodation onto my tour, at the beginning or the end of the tour?
Yes, this is pre or post accommodation. Just let us know and we can include that in your tour.
I am prone to motion sickness, can I guarantee a forward seat?
All tours operate a seat rotation system for the enjoyment of all travellers. All travellers must participate in seat rotation as a condition of booking. Due to this we are unable to guarantee forward seating.
How much luggage can I bring on tour?    
Each traveller is entitled to travel with one suitcase. Maximum suitcase weight allowed is 23kg (50lbs). All luggage is entirely at the 'owners risk' whilst on tour and we strongly recommend that travel insurance be taken out by each traveller to cover accidental damage or loss. All travellers are supplied with luggage tags. This will assist the Coach Captain to identify your luggage when loading the coach throughout your tour and the delivery of luggage to your room.
What clothing should I bring on tour?
Whilst on tour, dress is informal and relaxed on most occasions. Smart casual clothes are acceptable at most restaurants. The seasons are more pronounced and the weather is more changeable. In summer, a jacket and sweater should be included in your luggage should the weather turn cooler or you visit higher altitudes. You can expect some rain, so also include a light rainproof jacket or coat. If visiting during the months of May and September, pack warm winter garments and layer your clothing. You may have the option to relax and unwind in thermal hot pools so don't forget to pack your swimwear.
What can I expect weather wise?
As much as we would like to say 100% sunshine, that is beyond us so the New Zealand Met service have the following averages.
Spring: September, October, November - average daytime temperature 16 – 19 Celsius (61 – 66 Fahrenheit)
Summer: December, January, February - average daytime temperature 20 – 25 Celsius (68- 77 Fahrenheit)
Autumn/Fall: March, April, May - average daytime temperature 17-21 Celsius (62 – 70 Fahrenheit)
Winter: June, July, August - average daytime temperature 12 - 16 Celsius (53 – 61 Fahrenheit)
Do I need to tip in New Zealand?
If you wish to reward someone for a job well done it is always much appreciated.
Do I need a visa to visit New Zealand?
Most visitors to New Zealand do not require a visa to enter for the purpose of a holiday or vacation under the visa waiver program. If you do need a visa to visit New Zealand then you should contact the New Zealand consulate in your home country well before your departure date. We recommend you also check with your local travel agent or airline for any visa requirements to New Zealand particularly if you are passing through Australia. Information on the New Zealand Electronic Travel Authority (NZeTA) can be found here: https://www.immigration.govt.nz/new-zealand-visas/apply-for-a-visa/about-visa/nzeta
What currency is used in New Zealand?
The New Zealand dollar is the only legal tender in New Zealand. View a guide between your local currency and the New Zealand dollar. Please note: Your tour and all purchases using a credit card in New Zealand will be charged in New Zealand Dollars (NZD) at the current exchange rate at the time of purchase.
Do I require travel insurance?
We strongly recommend you purchase travel insurance. Factors may arise that require you to cancel or amend your holiday, so it is essential you are covered for any costs that may be incurred. We recommend purchasing your travel insurance locally at the same time as you book your tour and flights. Pacific Travel Ltd does not sell travel insurance.
Day By Day Itinerary
DAY 1: WELCOME TO AUCKLAND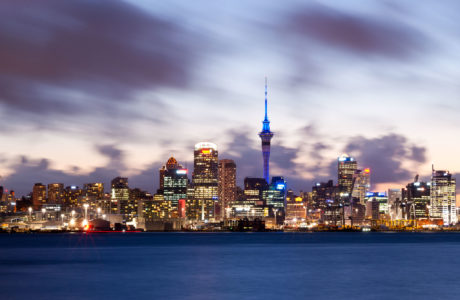 Welcome to Auckland, New Zealand's City of Sails. Flights can arrive any time prior to 4.00pm and you will be transferred to your Auckland hotel by private car. After you check in, you can head out and explore Auckland. This evening, meet your fellow travellers and your Travel Director at a welcome reception and dinner at your hotel.
Accommodation: Stamford Plaza Auckland
DAY 2: AUCKLAND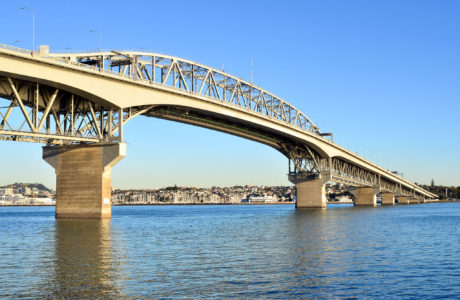 A city sights tour will start your morning in Auckland. Travel around the waterfront from central city out to Mission Bay. Prepare your camera for the stop at Bastion Point and the Michael Joseph Savage Memorial, as you will get stunning shots of Auckland, the North Shore and the Waitemata.
Accommodation: Stamford Plaza Auckland
DAY 3: AUCKLAND / TAURANGA
You're invited to a Be My Guest lunch at the home of Lance and Bridgette O'Sullivan, New Zealand horse racing royalty. Enjoy a sumptuous country-style lunch at the Red Barn on their beautiful Waikato farm. Later, travel to the harbourside city of Tauranga, located in the Bay of Plenty region. A bridge over the harbour connects Tauranga to Mount Maunganui, where you'll have an afternoon at leisure. Why not walk up the extinct namesake volcano with winding walking paths or relax on the main beach, this glorious stretch of golden sand has been voted the best in the country.
Accommodation: Trinity Wharf Tauranga
DAY 4: TAURANGA / ROTORUA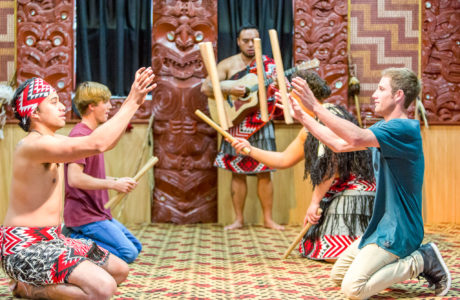 Travel through Te Puke, known as the kiwifruit capital of New Zealand with around 80% of all kiwifruit grown in New Zealand, grown here. You'll stop at Kiwifruit Country, a family owned business that is set amongst a 60-hectare orchard. Later, it's on to Rotorua for an orientation tour that takes in views of Lake Rotorua. This afternoon you'll visit Te Puia and tour through the Whakarewarewa Thermal Reserve. Tonight, an evening of culture, history and scrumptious food awaits you at the Tamaki Māori Village. Wander through the ancient forest village and learn about Māori art forms and traditions, followed by a concert featuring local performers. Experience an authentic Māori Hangi Highlight Dinner, steamed underground in the traditional way.
Accommodation: Millennium Hotel
DAY 5: ROTORUA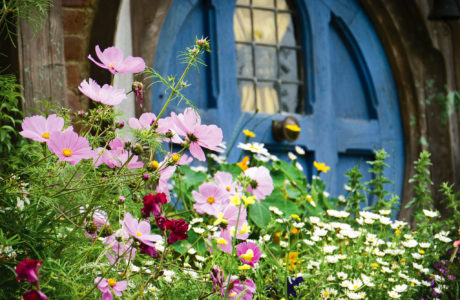 Today choose from a range of Included Choice sightseeing experiences. You could take a fascinating tour of the Hobbiton movie set, enjoy a guided tour through the long galleries and lofty chambers of the world-famous Waitomo Glowworm Caves or explore Rotorua and its lakes in an amphibious WWII era Duck.
Accommodation: Millennium Hotel
DAY 6: ROTORUA / WELLINGTON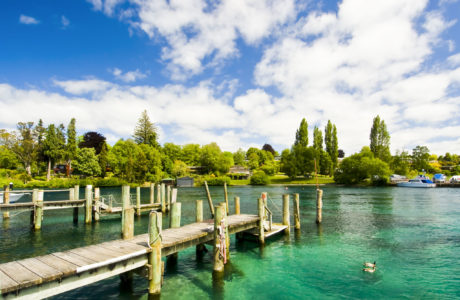 Say Haere Ra (goodbye) to Rotorua this morning and journey out through pine forests and farmland to a little hidden spot, the turquoise torrent of rapids known as Huka Falls. The road ahead unfolds in a broad panorama of Lake Taupo, New Zealand's largest lake. The stunningly blue fresh water of Lake Taupo is home to some of the best trout fishing in the world. You will then journey south over the Central Plateau, New Zealand's main volcanic area, and along the Kapiti Coast to New Zealand's capital city, Wellington. Tonight, you are free to dine as you wish.
Accommodation: James Cook Hotel Grand Chancellor
DAY 7: FAREWELL FROM WELLINGTON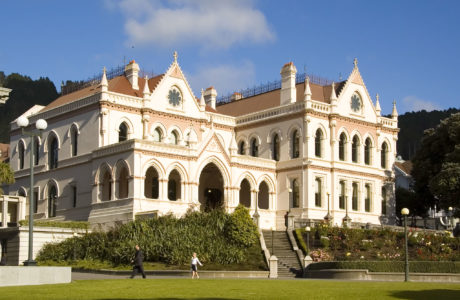 Discover more of Wellington this morning. There's time to explore the Parliament buildings and the 'Beehive', home to New Zealand's politicians, as well as the many fascinating exhibits at Te Papa Museum of New Zealand. Say farewell to your fellow travellers before you are transferred by private car to Wellington Airport for your onward flight.
No matching reviews found.
01 October 2020 - 31 March 2022
| Start Date | End Date | Single traveller | Share / Twin | Guaranteed departure | Availability |
| --- | --- | --- | --- | --- | --- |
| 6 April 2021 | 12 April 2021 | $4,315 NZD | $3,220 NZD | No | Enquire / Book |
| 13 April 2021 | 19 April 2021 | $4,315 NZD | $3,220 NZD | No | Enquire / Book |
| 20 April 2021 | 26 April 2021 | $4,315 NZD | $3,220 NZD | No | Enquire / Book |
| 27 April 2021 | 3 May 2021 | $4,315 NZD | $3,220 NZD | Yes | Enquire / Book |
| 8 June 2021 | 14 June 2021 | $4,315 NZD | $3,220 NZD | No | Enquire / Book |
| 29 June 2021 | 5 July 2021 | $4,315 NZD | $3,220 NZD | No | Enquire / Book |
| 7 September 2021 | 13 September 2021 | $4,315 NZD | $3,220 NZD | Yes | Enquire / Book |
| 14 September 2021 | 20 September 2021 | $4,315 NZD | $3,220 NZD | No | Enquire / Book |
| 21 September 2021 | 27 September 2021 | $4,315 NZD | $3,220 NZD | No | Enquire / Book |
| 5 October 2021 | 11 October 2021 | $4,685 NZD | $3,500 NZD | Yes | Enquire / Book |
| 12 October 2021 | 18 October 2021 | $4,685 NZD | $4,685 NZD | No | Enquire / Book |
| 19 October 2021 | 25 October 2021 | $4,685 NZD | $4,685 NZD | No | Enquire / Book |
| 26 October 2021 | 1 November 2021 | $4,685 NZD | $4,685 NZD | Yes | Enquire / Book |
| 2 November 2021 | 8 November 2021 | $4,685 NZD | $4,685 NZD | No | Enquire / Book |
| 9 November 2021 | 15 November 2021 | $4,685 NZD | $4,685 NZD | No | Enquire / Book |
| 16 November 2021 | 22 November 2021 | $4,685 NZD | $4,685 NZD | Yes | Enquire / Book |
| 23 November 2021 | 29 November 2021 | $4,685 NZD | $4,685 NZD | No | Enquire / Book |
| 30 November 2021 | 6 December 2021 | $4,685 NZD | $4,685 NZD | No | Enquire / Book |
| 7 December 2021 | 13 December 2021 | $4,685 NZD | $4,685 NZD | No | Enquire / Book |
| 14 December 2021 | 20 December 2021 | $4,685 NZD | $4,685 NZD | No | Enquire / Book |
| 21 December 2021 | 27 December 2021 | $4,685 NZD | $4,685 NZD | Yes | Enquire / Book |
| 28 December 2021 | 3 January 2022 | $4,685 NZD | $4,685 NZD | No | Enquire / Book |
| 4 January 2022 | 10 January 2022 | $4,685 NZD | $4,685 NZD | No | Enquire / Book |
| 11 January 2022 | 17 January 2022 | $4,685 NZD | $4,685 NZD | No | Enquire / Book |
| 18 January 2022 | 24 January 2022 | $4,685 NZD | $4,685 NZD | Yes | Enquire / Book |
| 25 January 2022 | 31 January 2022 | $4,685 NZD | $4,685 NZD | No | Enquire / Book |
| 1 February 2022 | 7 February 2022 | $4,685 NZD | $4,685 NZD | Yes | Enquire / Book |
| 8 February 2022 | 14 February 2022 | $4,685 NZD | $4,685 NZD | No | Enquire / Book |
| 15 February 2022 | 21 February 2022 | $4,685 NZD | $4,685 NZD | Yes | Enquire / Book |
| 22 February 2022 | 28 February 2022 | $4,685 NZD | $4,685 NZD | No | Enquire / Book |
| 1 March 2022 | 7 March 2022 | $4,685 NZD | $4,685 NZD | Yes | Enquire / Book |
| 8 March 2022 | 14 March 2022 | $4,685 NZD | $4,685 NZD | No | Enquire / Book |
| 15 March 2022 | 21 March 2022 | $4,685 NZD | $4,685 NZD | Yes | Enquire / Book |
| 22 March 2022 | 28 March 2022 | $4,685 NZD | $4,685 NZD | No | Enquire / Book |
| 29 March 2022 | 4 April 2022 | $4,685 NZD | $4,685 NZD | No | Enquire / Book |