21 Day Spirit of New Zealand Guided Tour
This comprehensive journey takes you through both the North and South Islands to a wonderland of towering snow-capped mountains, ice-blue glaciers, and pristine lakes, and reveals fascinating insights into the culture of the indigenous Māori.
21 Day Spirit of New Zealand Guided Tour
Indulge in a little star-gazing before retiring to your private cabin for your overnight stay on Milford Sound. Journey out to Abel Tasman National Park and take a stroll along seemingly untouched golden beaches. Hear how the coastal city of Napier rebuilt in Art Deco style after the devastating earthquake of 1931.
| | |
| --- | --- |
| Tour Type: | Group Tours |
| From: | Christchurch to Auckland |
| Departs: | Selected dates |
| Duration: | 21 days |
| Tour Code: | LCQB |
Regions Visited
Click on the region name to view more information about the region
Christchurch, Dunedin, Milford Sound, Te Anau, Queenstown, Franz Josef, Punakaiki, Nelson, Picton and Marlborough Sounds, Wellington, Napier, Rotorua, Auckland, Bay of Islands
Tour Inclusions
Experienced Travel Director and Driver Guide
Comfortable accommodation
Travel by luxury coach
Airport transfers (flights to arrive prior to 4pm on day 1, flights can depart anytime on day 21)
Full buffet breakfasts (20)
Lunch (1)
Highlight dinner (1)
Dinners (6)
Farewell dinner (1)
Tour the sights of Dunedin
Overnight Milford Sound
Franz Josef Glacier
Blow holes at Punakaiki
Free time in Nelson to explore the Abel Tasman National Park
Cruise Queen Charlotte Sound
Napier's Art Deco history
Maori hangi and Concert with the Tamaki Family Marae
Discover Maori Arts & Crafts at Te Puia
Auckland City Sights
Cruise the stunning Bay of Islands and the Hole in the Rock
* Please note: There is an itinerary change from 1 April 2021. Please ask for details.
Frequently Asked Questions – GroupTours
What is a Group tour?
What could be better than travelling with a group of like-minded people, on a coach tour operated by one of our preferred operators, AAT Kings or Grand Pacific Tours. You will be taken care of from your arrival into New Zealand through to your departure.
Do these tours departure every day?
The departure dates are stipulated on our website. Should a date not fit into your schedule, please contact us as we would gladly make alternative arrangements for you.
I am a single traveller, can I be matched up with another single traveller in a twin room?
Yes, you can pay on a share twin basis. You will be matched with a fellow traveller of the same gender, however we are unable to guarantee compatibility.
What is included in my tour?
5 star coach transportation, experienced coach captain with full commentary, some tours include a tour manager. Accommodation, activities and meals as stipulated in the itinerary.
Can I join or leave a tour part way through?
Yes, should you wish to we can arrange this for you. However, there will be no deduction in the cost for unused services.
Does the tour include transfers on arrival and departure?
You will be met on arrival at the airport and transferred to the tour hotel to meet your fellow travellers. At the completion of the tour you will be transferred to the airport in ample time for your departure flight.
Can I add accommodation onto my tour, at the beginning or the end of the tour?
Yes, this is pre or post accommodation. Just let us know and we can include that in your tour.
I am prone to motion sickness, can I guarantee a forward seat?
All tours operate a seat rotation system for the enjoyment of all travellers. All travellers must participate in seat rotation as a condition of booking. Due to this we are unable to guarantee forward seating.
How much luggage can I bring on tour?    
Each traveller is entitled to travel with one suitcase. Maximum suitcase weight allowed is 23kg (50lbs). All luggage is entirely at the 'owners risk' whilst on tour and we strongly recommend that travel insurance be taken out by each traveller to cover accidental damage or loss. All travellers are supplied with luggage tags. This will assist the Coach Captain to identify your luggage when loading the coach throughout your tour and the delivery of luggage to your room.
What clothing should I bring on tour?
Whilst on tour, dress is informal and relaxed on most occasions. Smart casual clothes are acceptable at most restaurants. The seasons are more pronounced and the weather is more changeable. In summer, a jacket and sweater should be included in your luggage should the weather turn cooler or you visit higher altitudes. You can expect some rain, so also include a light rainproof jacket or coat. If visiting during the months of May and September, pack warm winter garments and layer your clothing. You may have the option to relax and unwind in thermal hot pools so don't forget to pack your swimwear.
What can I expect weather wise?
As much as we would like to say 100% sunshine, that is beyond us so the New Zealand Met service have the following averages.
Spring: September, October, November - average daytime temperature 16 – 19 Celsius (61 – 66 Fahrenheit)
Summer: December, January, February - average daytime temperature 20 – 25 Celsius (68- 77 Fahrenheit)
Autumn/Fall: March, April, May - average daytime temperature 17-21 Celsius (62 – 70 Fahrenheit)
Winter: June, July, August - average daytime temperature 12 - 16 Celsius (53 – 61 Fahrenheit)
Do I need to tip in New Zealand?
If you wish to reward someone for a job well done it is always much appreciated.
Do I need a visa to visit New Zealand?
Most visitors to New Zealand do not require a visa to enter for the purpose of a holiday or vacation under the visa waiver program. If you do need a visa to visit New Zealand then you should contact the New Zealand consulate in your home country well before your departure date. We recommend you also check with your local travel agent or airline for any visa requirements to New Zealand particularly if you are passing through Australia. Information on the New Zealand Electronic Travel Authority (NZeTA) can be found here: https://www.immigration.govt.nz/new-zealand-visas/apply-for-a-visa/about-visa/nzeta
What currency is used in New Zealand?
The New Zealand dollar is the only legal tender in New Zealand. View a guide between your local currency and the New Zealand dollar. Please note: Your tour and all purchases using a credit card in New Zealand will be charged in New Zealand Dollars (NZD) at the current exchange rate at the time of purchase.
Do I require travel insurance?
We strongly recommend you purchase travel insurance. Factors may arise that require you to cancel or amend your holiday, so it is essential you are covered for any costs that may be incurred. We recommend purchasing your travel insurance locally at the same time as you book your tour and flights. Pacific Travel Ltd does not sell travel insurance.
Day By Day Itinerary
DAY 1: WELCOME TO CHRISTCHURCH
Meet your Travel Director and travelling companions this evening at a Welcome Reception.
Accommodation: Hotel Ibis
DAY 2: CHRISTCHURCH / OMARAMA
Visit the city this morning, then travel over the Canterbury Plains to Lake Tekapo and view the Church of the Good Shepherd before continuing to Mt. Cook National Park.
Accommodation: Heritage Gateway Hotel
DAY 3: OMARAMA / DUNEDIN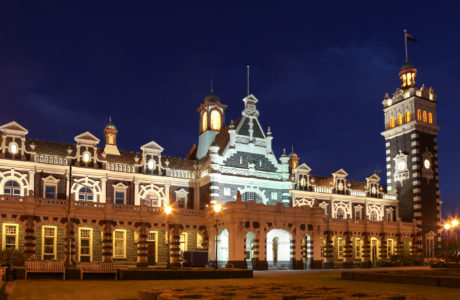 Travel via Oamaru to Dunedin for a city tour on arrival.
Accommodation: Kingsgate Hotel
DAY 4: DUNEDIN / MILFORD SOUND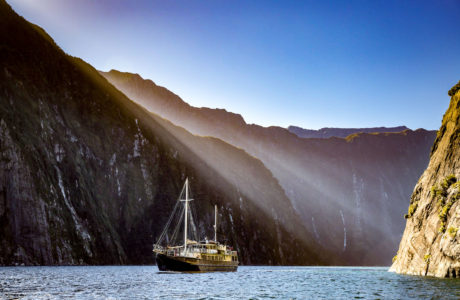 Journey through rainforest, ancient glaciers and mountain ranges, and pass through the monumental Homer Tunnel. See Lake Matheson, Pop's Lookout, Cleddau Valley and the Chasm before arriving in Milford Sound for your overnight cruise
(Cruise may not operate on 10 Sep 2020 departure. On this date, you can enjoy a day cruise on Milford Sound and accommodation in Te Anau or Queenstown)
Accommodation: Overnight Milford Sound
DAY 5: MILFORD SOUND / QUEENSTOWN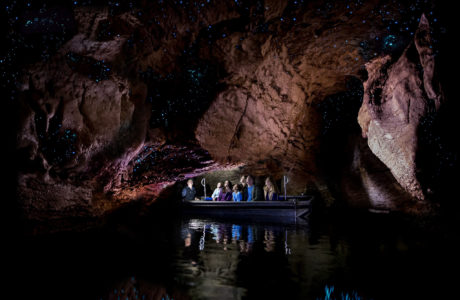 Depart this morning for Lake Te Anau. Explore the famous Te Anau Glowworm Caves by boat, drifting in silent darkness beneath the luminous shimmer of hundreds of glowworms. Later, travel to Queenstown.
Accommodation: Copthorne Hotel & Resort
DAY 6: QUEENSTOWN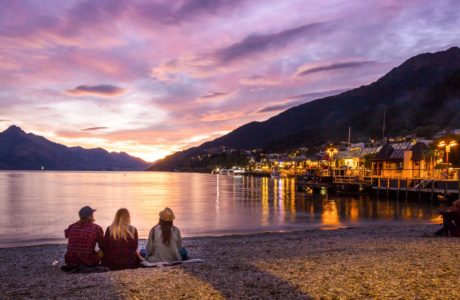 Today is free for you to explore Queenstown at your own pace. This evening, consider a cruise across Lake Wakatipu aboard the vintage steamship TSS Earnslaw.
Accommodation: Copthorne Hotel & Resort
DAY 7: QUEENSTOWN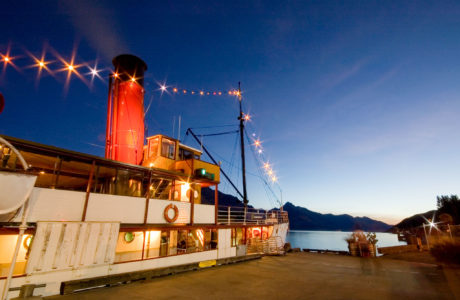 Today, take time to either relax or tailor your own action-packed agenda.
Accommodation: Copthorne Hotel & Resort
DAY 8: QUEENSTOWN / FRANZ JOSEF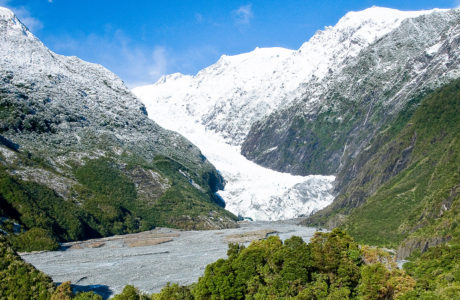 Your first destination today is the old goldmining settlement of Arrowtown. Travel on to witness the serenity of the region's vivid blue lakes, the most famous of which is pristine Lake Wanaka. Drive over the spectacular Haast Pass and take a rainforest walk to Thunder Creek Falls on your way to the extraordinary Franz Josef Glacier.
Accommodation: Scenic Hotel Franz Josef Glacier
DAY 9: FRANZ JOSEF / PUNAKAIKI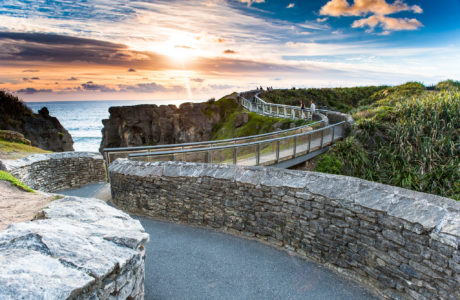 This morning, why not choose an optional experience and see Franz Josef Glacier from the air or take a glacier hike. Travel on to Hokitika, home of New Zealand's famous greenstone, for a factory visit and demonstration. Continue to Punakaiki to view the Pancake Rocks.
Accommodation: Punakaiki Resort
DAY 10: PUNAKAIKI / NELSON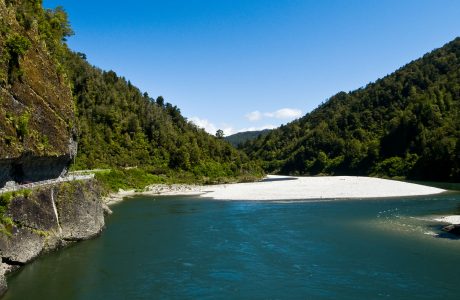 The Heritage Highway leads you to the Buller Gorge and Kahurangi National Park before arriving in Nelson.
Accommodation: The Rutherford Hotel
DAY 11: NELSON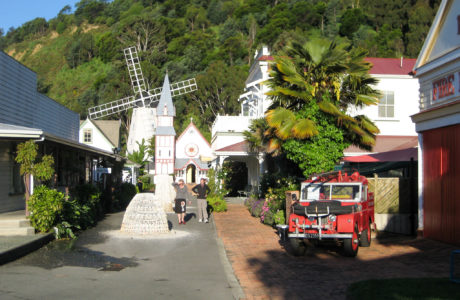 Today you'll have the option to journey to the top of the South Island and take a scenic cruise in the Abel Tasman National Park.
Accommodation: The Rutherford Hotel
DAY 12: NELSON / WELLINGTON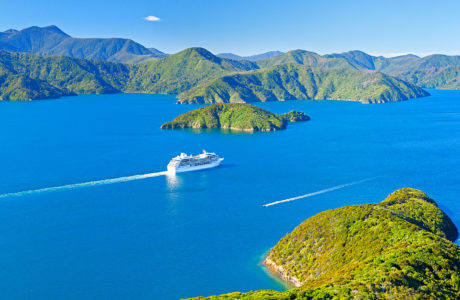 Visit the seaside village of Picton then cruise on Queen Charlotte Sound before heading across Cook Strait to the North Island and Wellington, New Zealand's capital. Enjoy a city sights tour before a guided tour of Te Papa Museum of New Zealand.
Accommodation: Travelodge
DAY 13: WELLINGTON AT LEISURE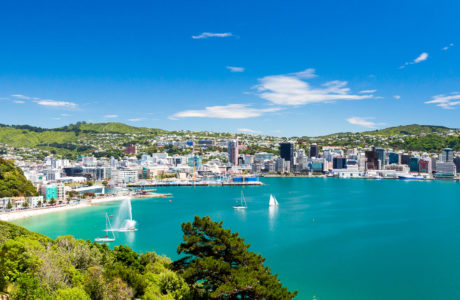 Explore Wellington at your own pace today.
Accommodation: Travelodge
DAY 14: WELLINGTON / NAPIER
Your special packed lunch today won't only be wholesome, it will also feed a Kiwi child who may otherwise go without, through the charity 'Eat My Lunch'. Travel through the vineyards of the Wairarapa region and Hawke's Bay, and take a walking tour of Art Deco Napier.
Accommodation: Scenic Hotel Te Pania
DAY 15: NAPIER / ROTORUA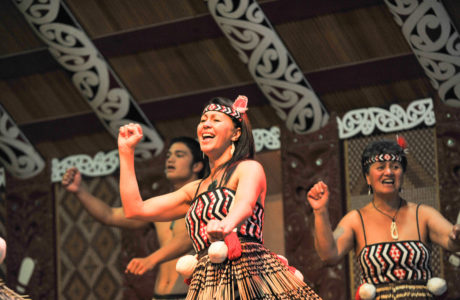 Today journey to Lake Taupo, then visit Huka Falls on your way to Rotorua. Visit Te Puia, the Māori Arts and Crafts Institute. A tour of Rotorua's active geothermal fields follows. Gain a further insight into traditional Māori culture at a concert and Hangi Highlight Dinner at the Tamaki Māori Village.
Accommodation: Hotel Ibis
DAY 16: ROTORUA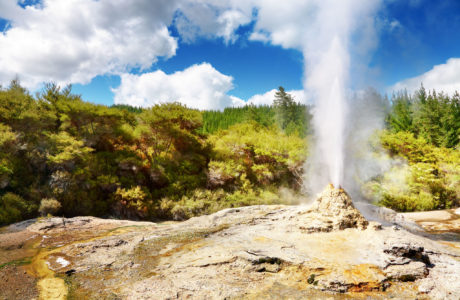 Today is free for you to explore at leisure.
Accommodation: Hotel Ibis
DAY 17: ROTORUA / AUCKLAND
Travel through the dairy-farming land of Waikato en route to Auckland.
Stay: VR Queen Street Hotel & Suites
DAY 18: AUCKLAND / BAY OF ISLANDS
Travel through Northland to the Bay of Islands where you'll experience spectacular scenery as you cruise through the 'Hole in the Rock'.
Accommodation: Copthorne Resort (garden view)
DAY 19: BAY OF ISLANDS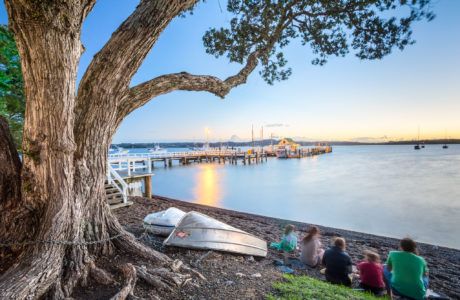 Today is free for you to explore at leisure.
Accommodation: Copthorne Resort (garden view)
DAY 20: BAY OF ISLANDS / AUCKLAND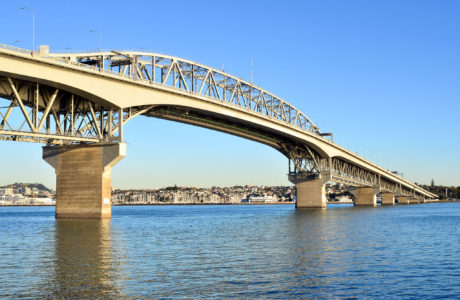 Drive through lush farmland scenery on your return to Auckland. This evening, join your Travel Director and travelling companions for a Farewell Dinner.
Accommodation: VR Queen Street Hotel & Suites
DAY 21: FAREWELL FROM AUCKLAND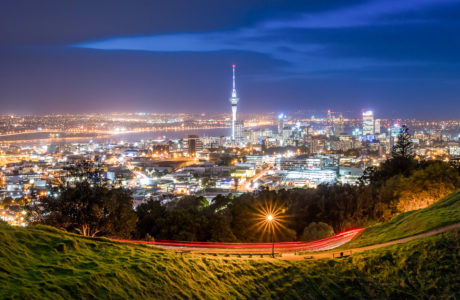 Your holiday comes to an end this morning after breakfast.
No matching reviews found.
01 October 2020 - 31 March 2022
| Start Date | End Date | Single traveller | Share / Twin | Guaranteed departure | Availability |
| --- | --- | --- | --- | --- | --- |
| 18 February 2021 | 10 March 2021 | $9,690 NZD | $7,095 NZD | No | Enquire / Book |
| 11 March 2021 | 31 March 2021 | $9,690 NZD | $7,095 NZD | No | Enquire / Book |
| 7 October 2021 | 27 October 2021 | $9,755 NZD | $7,160 NZD | Yes | Enquire / Book |
| 4 November 2021 | 24 November 2021 | $9,755 NZD | $7,160 NZD | No | Enquire / Book |
| 25 November 2021 | 15 December 2021 | $9,755 NZD | $7,160 NZD | No | Enquire / Book |
| 16 December 2021 | 5 January 2022 | $9,755 NZD | $7,160 NZD | No | Enquire / Book |
| 6 January 2022 | 26 January 2022 | $9,755 NZD | $7,160 NZD | No | Enquire / Book |
| 27 January 2022 | 16 February 2022 | $9,755 NZD | $7,160 NZD | Yes | Enquire / Book |
| 3 February 2022 | 23 February 2022 | $9,755 NZD | $7,160 NZD | Yes | Enquire / Book |
| 17 February 2022 | 9 March 2022 | $9,755 NZD | $7,160 NZD | Yes | Enquire / Book |
| 3 March 2022 | 23 March 2022 | $9,755 NZD | $7,160 NZD | No | Enquire / Book |
| 10 March 2022 | 30 March 2022 | $9,755 NZD | $7,160 NZD | Yes | Enquire / Book |