10 Day Southern Spectacular Guided Tour
Make sure you have your camera battery charged to capture magnificent sights as you journey down into Milford Sound and watch as master carvers create works of art out of the blocks of Pounamu on the West Coast.
10 Day Southern Spectacular Guided Tour
Watch master carvers working with magnificent New Zealand greenstone and learn about the joys and challenges of farming in the foothills of the Southern Alps. These personal encounters provide a human touch that complements the grandeur of the renowned natural beauty of the land of The Long White Cloud, with its soaring peaks and waterfalls, and serene lakes and pastureland.
| | |
| --- | --- |
| Tour Type: | Group Tours |
| From: | Christchurch to Christchurch |
| Departs: | Selected dates |
| Duration: | 10 days |
| Tour Code: | ZCQR |
Regions Visited
Click on the region name to view more information about the region
Christchurch, Lake Pukaki & Twizel, Dunedin, Te Anau, Queenstown, Franz Josef, Punakaiki, Arthurs Pass
Tour Inclusions
Quality accommodation
Travel by luxury coach
Experienced Travel Director and Driver Guide
Airport transfers (flights to arrive prior to 4pm on day 1, flights can depart anytime on day 10)
Full buffet breakfasts (9)
Be My Guest afternoon tea (1)
Dinners with wine (5)
Highlight dinner (1)
Farewell dinner (1)
Savour an afternoon tea at Morelea
Cruise on truly inspiring Milford Sound
Explore Queenstown
Cruise TSS Earnslaw and dinner at Walter Peak
Discover Franz Josef Glacier
Walk around Punakaiki's Pancake Rocks
Journey over the Southern Alps on the TranzAlpine Train
* Please note: There is an itinerary change from 1 April 2021. Please ask for details.
Frequently Asked Questions – GroupTours
What is a Group tour?
What could be better than travelling with a group of like-minded people, on a coach tour operated by one of our preferred operators, AAT Kings or Grand Pacific Tours. You will be taken care of from your arrival into New Zealand through to your departure.
Do these tours departure every day?
The departure dates are stipulated on our website. Should a date not fit into your schedule, please contact us as we would gladly make alternative arrangements for you.
I am a single traveller, can I be matched up with another single traveller in a twin room?
Yes, you can pay on a share twin basis. You will be matched with a fellow traveller of the same gender, however we are unable to guarantee compatibility.
What is included in my tour?
5 star coach transportation, experienced coach captain with full commentary, some tours include a tour manager. Accommodation, activities and meals as stipulated in the itinerary.
Can I join or leave a tour part way through?
Yes, should you wish to we can arrange this for you. However, there will be no deduction in the cost for unused services.
Does the tour include transfers on arrival and departure?
You will be met on arrival at the airport and transferred to the tour hotel to meet your fellow travellers. At the completion of the tour you will be transferred to the airport in ample time for your departure flight.
Can I add accommodation onto my tour, at the beginning or the end of the tour?
Yes, this is pre or post accommodation. Just let us know and we can include that in your tour.
I am prone to motion sickness, can I guarantee a forward seat?
All tours operate a seat rotation system for the enjoyment of all travellers. All travellers must participate in seat rotation as a condition of booking. Due to this we are unable to guarantee forward seating.
How much luggage can I bring on tour?    
Each traveller is entitled to travel with one suitcase. Maximum suitcase weight allowed is 23kg (50lbs). All luggage is entirely at the 'owners risk' whilst on tour and we strongly recommend that travel insurance be taken out by each traveller to cover accidental damage or loss. All travellers are supplied with luggage tags. This will assist the Coach Captain to identify your luggage when loading the coach throughout your tour and the delivery of luggage to your room.
What clothing should I bring on tour?
Whilst on tour, dress is informal and relaxed on most occasions. Smart casual clothes are acceptable at most restaurants. The seasons are more pronounced and the weather is more changeable. In summer, a jacket and sweater should be included in your luggage should the weather turn cooler or you visit higher altitudes. You can expect some rain, so also include a light rainproof jacket or coat. If visiting during the months of May and September, pack warm winter garments and layer your clothing. You may have the option to relax and unwind in thermal hot pools so don't forget to pack your swimwear.
What can I expect weather wise?
As much as we would like to say 100% sunshine, that is beyond us so the New Zealand Met service have the following averages.
Spring: September, October, November - average daytime temperature 16 – 19 Celsius (61 – 66 Fahrenheit)
Summer: December, January, February - average daytime temperature 20 – 25 Celsius (68- 77 Fahrenheit)
Autumn/Fall: March, April, May - average daytime temperature 17-21 Celsius (62 – 70 Fahrenheit)
Winter: June, July, August - average daytime temperature 12 - 16 Celsius (53 – 61 Fahrenheit)
Do I need to tip in New Zealand?
If you wish to reward someone for a job well done it is always much appreciated.
Do I need a visa to visit New Zealand?
Most visitors to New Zealand do not require a visa to enter for the purpose of a holiday or vacation under the visa waiver program. If you do need a visa to visit New Zealand then you should contact the New Zealand consulate in your home country well before your departure date. We recommend you also check with your local travel agent or airline for any visa requirements to New Zealand particularly if you are passing through Australia. Information on the New Zealand Electronic Travel Authority (NZeTA) can be found here: https://www.immigration.govt.nz/new-zealand-visas/apply-for-a-visa/about-visa/nzeta
What currency is used in New Zealand?
The New Zealand dollar is the only legal tender in New Zealand. View a guide between your local currency and the New Zealand dollar. Please note: Your tour and all purchases using a credit card in New Zealand will be charged in New Zealand Dollars (NZD) at the current exchange rate at the time of purchase.
Do I require travel insurance?
We strongly recommend you purchase travel insurance. Factors may arise that require you to cancel or amend your holiday, so it is essential you are covered for any costs that may be incurred. We recommend purchasing your travel insurance locally at the same time as you book your tour and flights. Pacific Travel Ltd does not sell travel insurance.
Day By Day Itinerary
DAY 1: WELCOME TO CHRISTCHURCH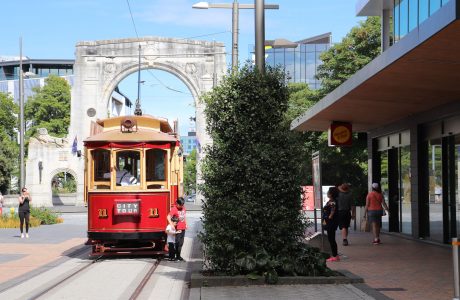 Christchurch has bounced back after the earthquakes of 2010 and 2011 and is now thriving once again. Contemporary art galleries, boutiques and open-air markets add to the city's creative vibe. Meet your Travel Director and fellow travellers this evening for a Welcome Reception.
Accommodation: Distinction Christchurch Hotel
DAY 2: CHRISTCHURCH / TWIZEL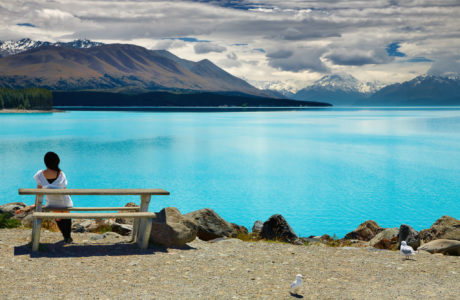 This morning, join our Sustainable Tourism Commitment by planting a native tree in the Port Hills of Christchurch, an area recovering from wildfire. Visit the home of Angie and Stan Taylor for a Be My Guest afternoon tea, and hear about a lifetime spent farming in the Southern Alps. See Lakes Tekapo and Pukaki, and view the famed Church of the Good Shepherd. Continue to the outdoor-adventure hub of Twizel.
Accommodation: MacKenzie Country Hotel
DAY 3: TWIZEL / DUNEDIN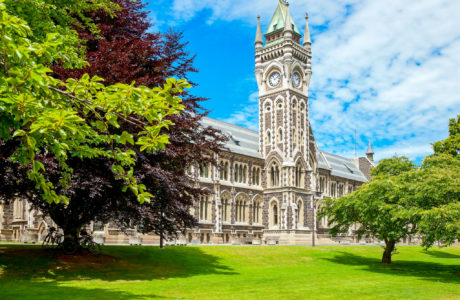 This morning, visit the spectacular Waitaki Hydro Power Scheme on the mighty Waitaki River. Explore the historic town of Oamaru, with its stately tree-lined streets and celebrated limestone buildings, then make your way to New Zealand's southernmost city, Dunedin, home to many fine examples of Victorian and Edwardian architecture. This afternoon, choose one from a range of Included Choice sightseeing experiences. Tour imposing Larnach Castle, ride the historic Taieri Gorge railway, take a wildlife cruise, or experience an interactive tour of famous Speight's Brewery.
Accommodation: Scenic Hotel Southern Cross
DAY 4: DUNEDIN / TE ANAU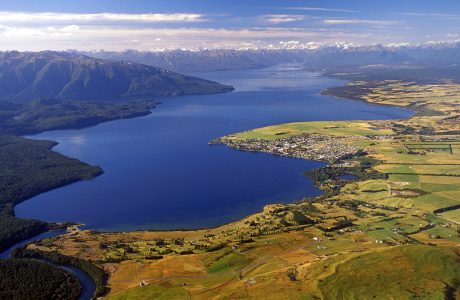 Today, travel through lush green sheep-grazing country on your way to the spectacular Fiordland National Park and the town of Te Anau, nestled in the southwestern corner of the South Island. Tonight, enjoy dinner at your hotel.
Accommodation: Distinction Te Anau Hotel & Villas
DAY 5: TE ANAU / QUEENSTOWN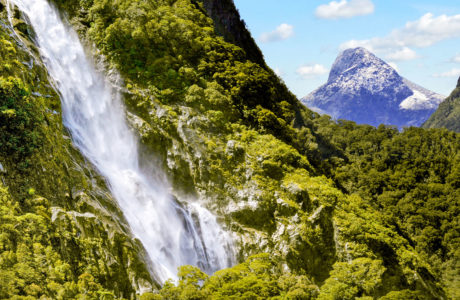 Your experience in magnificent Milford Sound today is sure to be one of the highlights of your journey. Travel first through native rainforests and lush meadows to Mirror Lakes and the hand-hewn Homer Tunnel, and marvel at the stunning Cleddau Valley. Your unforgettable Milford Sound cruise takes in cascading waterfalls, hanging glacial valleys, and the sheer pinnacle of Mitre Peak. After disembarking, travel on to beautiful Queenstown.
Accommodation: Millennium Hotel
DAY 6: QUEENSTOWN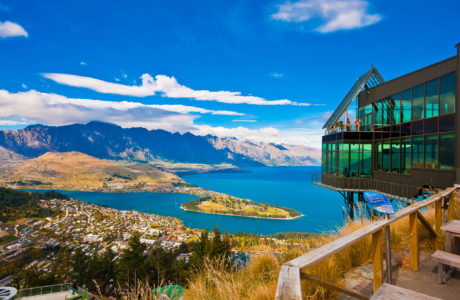 Today, choose one from a range of Included Choice sightseeing experiences. If you're feeling energetic you have the option of riding the exhilarating Shotover Jet boat. For a more laid-back experience, a minibus excursion will take you through spectacular Skippers Canyon, or take the gondola to Bob's Peak for amazing views over Queenstown and Lake Wakatipu and then visit a Kiwi Birdlife Park. This evening, settle into a peaceful cruise across Lake Wakatipu to Walter Peak High Country Farm, for a gourmet barbecue Highlight Dinner and an entertaining farm show.
Accommodation: Millennium Hotel
DAY 7: QUEENSTOWN / FRANZ JOSEF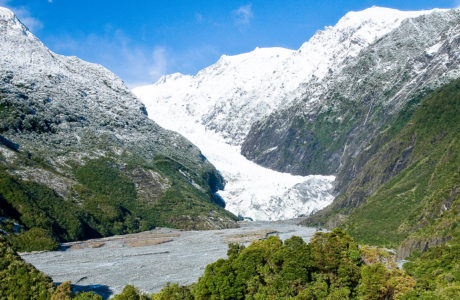 Your destination today is the wild west coast of the South Island. Stop to visit the faithfully-restored gold-mining settlement of Arrowtown, and enjoy the serenity of the region's vivid blue lakes. Drive over the spectacular Haast Pass, passing the 96-metre Thunder Creek Falls on your way to the extraordinary Franz Josef Glacier.
Accommodation: Scenic Hotel Franz Josef Glacier
DAY 8: FRANZ JOSEF / PUNAKAIKI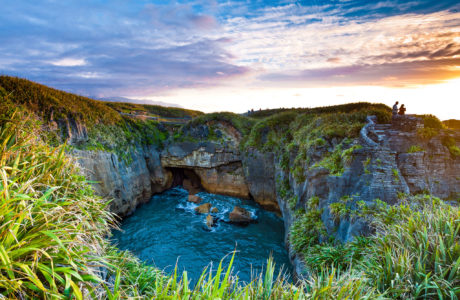 Consider an optional experience helicopter flight over the glaciers, or you may wish to take a stroll through the small but lively Franz Josef village. Travel on to Hokitika, home of New Zealand's famous greenstone. Continue to Punakaiki to view the intriguing Pancake Rocks and Blowholes. You'll spend the night in an eco-friendly resort right on the waterfront.
Accommodation: Punakaiki Resort
DAY 9: PUNAKAIKI / CHRISTCHURCH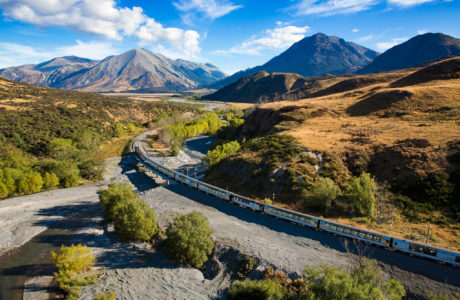 Join your personal guide for a tour of Monteith's Brewing Company, including tastings at the brewers' table, before sitting down to lunch. Afterwards, board the iconic TranzAlpine train in Greymouth and embark on one of the world's great train journeys, passing through magnificent landscapes ranging from the fertile farmlands of the Canterbury Plains to rugged gorges and pristine ice-fed streams and lakes. Back in Christchurch, join your Travel Director for a Farewell Dinner.
Accommodation: Distinction Christchurch Hotel
DAY 10: FAREWELL FROM CHRISTCHURCH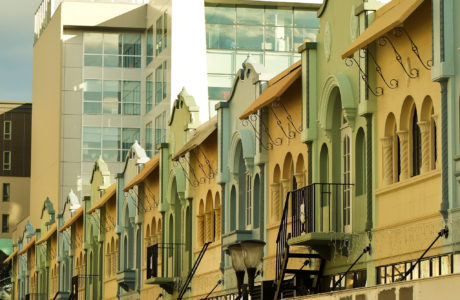 Say farewell to your fellow travellers when your holiday comes to an end this morning after breakfast.
No matching reviews found.
01 October 2020 - 31 March 2022
| Start Date | End Date | Single traveller | Share / Twin | Guaranteed departure | Availability |
| --- | --- | --- | --- | --- | --- |
| 23 February 2021 | 4 March 2021 | $6,270 NZD | $4,895 NZD | No | Enquire / Book |
| 2 March 2021 | 11 March 2021 | $6,270 NZD | $4,895 NZD | No | Enquire / Book |
| 9 March 2021 | 18 March 2021 | $6,270 NZD | $4,895 NZD | No | Enquire / Book |
| 16 March 2021 | 25 March 2021 | $6,270 NZD | $4,895 NZD | No | Enquire / Book |
| 23 March 2021 | 1 April 2021 | $6,270 NZD | $4,895 NZD | Yes | Enquire / Book |
| 30 March 2021 | 8 April 2021 | $6,270 NZD | $4,895 NZD | No | Enquire / Book |
| 6 April 2021 | 15 April 2021 | $5,610 NZD | $4,425 NZD | No | Enquire / Book |
| 13 April 2021 | 22 April 2021 | $5,640 NZD | $4,455 NZD | No | Enquire / Book |
| 20 April 2021 | 29 April 2021 | $5,640 NZD | $4,455 NZD | No | Enquire / Book |
| 27 April 2021 | 6 April 2021 | $5,640 NZD | $4,455 NZD | No | Enquire / Book |
| 4 May 2021 | 13 May 2021 | $5,640 NZD | $4,455 NZD | Yes | Enquire / Book |
| 15 June 2021 | 24 June 2021 | $5,640 NZD | $4,455 NZD | No | Enquire / Book |
| 6 July 2021 | 15 July 2021 | $5,640 NZD | $4,455 NZD | No | Enquire / Book |
| 14 September 2021 | 23 September 2021 | $5,640 NZD | $4,455 NZD | Yes | Enquire / Book |
| 21 September 2021 | 30 September 2021 | $5,640 NZD | $4,455 NZD | No | Enquire / Book |
| 28 September 2021 | 7 October 2021 | $5,640 NZD | $4,455 NZD | No | Enquire / Book |
| 12 October 2021 | 21 October 2021 | $6,300 NZD | $4,925 NZD | Yes | Enquire / Book |
| 19 October 2021 | 28 October 2021 | $6,300 NZD | $4,925 NZD | No | Enquire / Book |
| 26 October 2021 | 4 November 2021 | $6,300 NZD | $4,925 NZD | No | Enquire / Book |
| 2 November 2021 | 11 November 2021 | $6,300 NZD | $4,925 NZD | Yes | Enquire / Book |
| 9 November 2021 | 18 November 2021 | $6,300 NZD | $4,925 NZD | No | Enquire / Book |
| 16 November 2021 | 25 November 2021 | $6,300 NZD | $4,925 NZD | No | Enquire / Book |
| 23 November 2021 | 2 December 2021 | $6,300 NZD | $4,925 NZD | Yes | Enquire / Book |
| 30 November 2021 | 9 December 2021 | $6,300 NZD | $4,925 NZD | No | Enquire / Book |
| 7 December 2021 | 16 December 2021 | $6,300 NZD | $4,925 NZD | No | Enquire / Book |
| 14 December 2021 | 23 December 2021 | $6,300 NZD | $4,925 NZD | No | Enquire / Book |
| 21 December 2021 | 30 December 2021 | $6,300 NZD | $4,925 NZD | No | Enquire / Book |
| 28 December 2021 | 6 January 2022 | $6,300 NZD | $4,925 NZD | Yes | Enquire / Book |
| 4 January 2022 | 13 January 2022 | $6,300 NZD | $4,925 NZD | No | Enquire / Book |
| 11 January 2022 | 20 January 2022 | $6,300 NZD | $4,925 NZD | No | Enquire / Book |
| 18 January 2022 | 27 January 2022 | $6,300 NZD | $4,925 NZD | No | Enquire / Book |
| 25 January 2022 | 3 February 2022 | $6,300 NZD | $4,925 NZD | Yes | Enquire / Book |
| 1 February 2022 | 10 February 2022 | $6,300 NZD | $4,925 NZD | No | Enquire / Book |
| 8 February 2022 | 17 February 2022 | $6,300 NZD | $4,925 NZD | Yes | Enquire / Book |
| 15 February 2022 | 24 February 2022 | $6,300 NZD | $4,925 NZD | No | Enquire / Book |
| 22 February 2022 | 3 March 2022 | $6,300 NZD | $4,925 NZD | Yes | Enquire / Book |
| 1 March 2022 | 10 March 2022 | $6,300 NZD | $4,925 NZD | No | Enquire / Book |
| 8 March 2022 | 17 March 2022 | $6,300 NZD | $4,925 NZD | Yes | Enquire / Book |
| 15 March 2022 | 24 March 2022 | $6,300 NZD | $4,925 NZD | No | Enquire / Book |
| 22 March 2022 | 31 March 2022 | $6,300 NZD | $4,925 NZD | Yes | Enquire / Book |
| 29 March 2022 | 7 April 2022 | $6,300 NZD | $4,925 NZD | No | Enquire / Book |