10 Day Contrasts of New Zealand Guided Tour
Take in the contrasts of two distinct islands. From Auckland's sparkling harbour, to Rotorua's geothermal wonderland, across to the rugged beauty of the West Coast and the untouched serenity of Milford Sound, another snapshot of New Zealand's natural splendour reveals itself around every corner.
10 Day Contrasts of New Zealand Guided Tour
Take in the contrasts of two distinct islands. Enjoy a great snapshot of New Zealand's natural splendour revealing itself around every corner.
| | |
| --- | --- |
| Tour Type: | Group Tours |
| From: | Auckland to Christchurch |
| Departs: | Selected dates |
| Duration: | 10 days |
| Tour Code: | IZANB |
Regions Visited
Click on the region name to view more information about the region
Auckland, Rotorua, Queenstown, Milford Sound, Haast, Franz Josef, Hokitika, Arthurs Pass, Christchurch
Tour Inclusions
Quality accommodation
Travel by luxury coach
Airport transfers (flights to arrive by 4:00pm on day 1, flights to depart anytime on day 10)
Experienced travel director and driver guide
ull buffet breakfasts (9)
Lunch (1)
Highlight dinner (2)
Dinner with wine (2)
Farewell dinner (1)
Be my guest morning tea (1)
Explore Auckland's City Sights
Maori Hangi dinner at the Tamaki Family
Alpine Train
Franz Josef Glacier
Highlight Dinner in a historic Railway Shipping office
Be My Guest Morning Tea at Britten Stables
* Please note: There is an itinerary change from 1 April 2021. Please ask for details.
Frequently Asked Questions – GroupTours
What is a Group tour?
What could be better than travelling with a group of like-minded people, on a coach tour operated by one of our preferred operators, AAT Kings or Grand Pacific Tours. You will be taken care of from your arrival into New Zealand through to your departure.
Do these tours departure every day?
The departure dates are stipulated on our website. Should a date not fit into your schedule, please contact us as we would gladly make alternative arrangements for you.
I am a single traveller, can I be matched up with another single traveller in a twin room?
Yes, you can pay on a share twin basis. You will be matched with a fellow traveller of the same gender, however we are unable to guarantee compatibility.
What is included in my tour?
5 star coach transportation, experienced coach captain with full commentary, some tours include a tour manager. Accommodation, activities and meals as stipulated in the itinerary.
Can I join or leave a tour part way through?
Yes, should you wish to we can arrange this for you. However, there will be no deduction in the cost for unused services.
Does the tour include transfers on arrival and departure?
You will be met on arrival at the airport and transferred to the tour hotel to meet your fellow travellers. At the completion of the tour you will be transferred to the airport in ample time for your departure flight.
Can I add accommodation onto my tour, at the beginning or the end of the tour?
Yes, this is pre or post accommodation. Just let us know and we can include that in your tour.
I am prone to motion sickness, can I guarantee a forward seat?
All tours operate a seat rotation system for the enjoyment of all travellers. All travellers must participate in seat rotation as a condition of booking. Due to this we are unable to guarantee forward seating.
How much luggage can I bring on tour?    
Each traveller is entitled to travel with one suitcase. Maximum suitcase weight allowed is 23kg (50lbs). All luggage is entirely at the 'owners risk' whilst on tour and we strongly recommend that travel insurance be taken out by each traveller to cover accidental damage or loss. All travellers are supplied with luggage tags. This will assist the Coach Captain to identify your luggage when loading the coach throughout your tour and the delivery of luggage to your room.
What clothing should I bring on tour?
Whilst on tour, dress is informal and relaxed on most occasions. Smart casual clothes are acceptable at most restaurants. The seasons are more pronounced and the weather is more changeable. In summer, a jacket and sweater should be included in your luggage should the weather turn cooler or you visit higher altitudes. You can expect some rain, so also include a light rainproof jacket or coat. If visiting during the months of May and September, pack warm winter garments and layer your clothing. You may have the option to relax and unwind in thermal hot pools so don't forget to pack your swimwear.
What can I expect weather wise?
As much as we would like to say 100% sunshine, that is beyond us so the New Zealand Met service have the following averages.
Spring: September, October, November - average daytime temperature 16 – 19 Celsius (61 – 66 Fahrenheit)
Summer: December, January, February - average daytime temperature 20 – 25 Celsius (68- 77 Fahrenheit)
Autumn/Fall: March, April, May - average daytime temperature 17-21 Celsius (62 – 70 Fahrenheit)
Winter: June, July, August - average daytime temperature 12 - 16 Celsius (53 – 61 Fahrenheit)
Do I need to tip in New Zealand?
If you wish to reward someone for a job well done it is always much appreciated.
Do I need a visa to visit New Zealand?
Most visitors to New Zealand do not require a visa to enter for the purpose of a holiday or vacation under the visa waiver program. If you do need a visa to visit New Zealand then you should contact the New Zealand consulate in your home country well before your departure date. We recommend you also check with your local travel agent or airline for any visa requirements to New Zealand particularly if you are passing through Australia. Information on the New Zealand Electronic Travel Authority (NZeTA) can be found here: https://www.immigration.govt.nz/new-zealand-visas/apply-for-a-visa/about-visa/nzeta
What currency is used in New Zealand?
The New Zealand dollar is the only legal tender in New Zealand. View a guide between your local currency and the New Zealand dollar. Please note: Your tour and all purchases using a credit card in New Zealand will be charged in New Zealand Dollars (NZD) at the current exchange rate at the time of purchase.
Do I require travel insurance?
We strongly recommend you purchase travel insurance. Factors may arise that require you to cancel or amend your holiday, so it is essential you are covered for any costs that may be incurred. We recommend purchasing your travel insurance locally at the same time as you book your tour and flights. Pacific Travel Ltd does not sell travel insurance.
Day By Day Itinerary
DAY 1: WELCOME TO AUCKLAND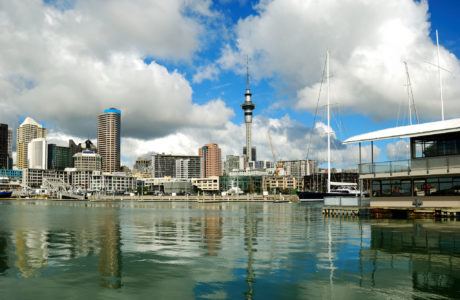 On arrival in Auckland you'll have time to relax or explore. This evening, meet your Travel Director and fellow travellers for a Welcome Reception and dinner.
Accommodation: Stamford Plaza Auckland
DAY 2: AUCKLAND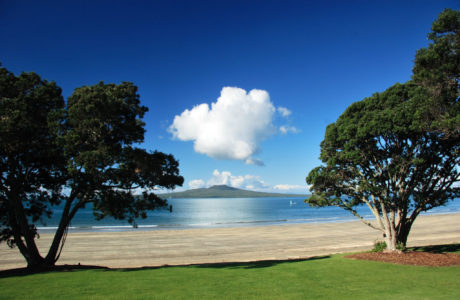 Embark on a city sightseeing tour this morning to Mission Bay. Keep your camera at the ready to capture spectacular panoramic views of the skyline, sprawling North Shore and Waitemata Harbour from Bastion Point and Michael Joseph Savage Memorial. Spend the afternoon as you wish.
Accommodation: Stamford Plaza Auckland
DAY 3: AUCKLAND / ROTORUA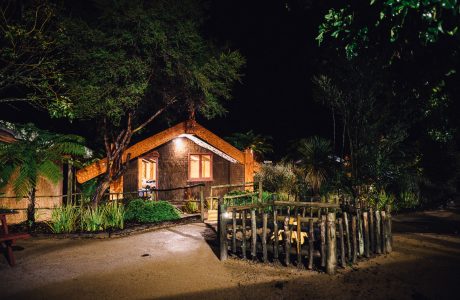 Today, you'll venture through the King Country region, which was at the centre of the New Zealand Wars in the 1860s. On arrival in Rotorua, embark on an orientation of the area before visiting Rainbow Springs Nature Park. Discover native flora that grows around the crystal-clear mineral water springs and you might even spot a kiwi or two! This evening, enjoy a traditional Hangi Highlight Dinner and cultural performance at the Tamaki Māori Village.
Accommodation: Millennium Hotel Rotorua
DAY 4: ROTORUA / QUEENSTOWN
Spend time at leisure this morning or consider an optional experience. You could visit Te Puia to meet the local Māori community for an introduction to their gift from the gods – the bubbling geysers, mud pools and thermal springs of Rotorua. Later, you'll fly to Queenstown (airfare is not included and must be booked by you or your travel agent). Required Internal Flights: to be purchased in order to fulfil the itinerary and are not included in the land content price – Rotorua to Queenstown: NZ5785/NZ5653 (required internal flight).
Accommodation: Millennium Hotel
DAY 5: MILFORD SOUND CRUISE
Journey over the Devil's Staircase and along the shore of Lake Wakatipu to Te Anau and its lake, the largest in the South Island. Travel through the rainforest of World Heritage Fiordland National Park, sighting glaciers and mountain ranges. Drive through the hand-hewn Homer Tunnel to the numerous photo opportunities afforded by the Mirror Lake, Pop's lookout, Cleddau Valley and the Chasm, Mitre Peak and the Bowen Falls before reaching Milford Sound. Enjoy a cruise on this wonder of nature. Return to Queenstown for the evening.
Accommodation: Millennium Hotel
DAY 6: QUEENSTOWN AT LEISURE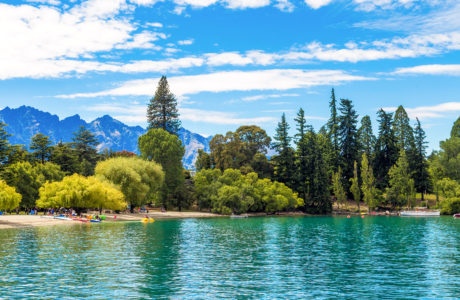 Your final day in Queenstown could see you take an optional experience ride on the Shotover Jet boat or a cruise across Lake Wakatipu aboard the TSS Earnslaw to Walter Peak High Country Farm for a gourmet barbecue lunch at the Colonel's Homestead. This evening join your Travel Director for dinner at The Boatshed, set in the historic Railway Shipping Office built in 1936. Restored and relocated to its lakefront setting, The Boatshed with its spectacular views of Lake Wakatipu and the Remarkables, is the perfect venue for your Highlight Dinner.
Accommodation: Millennium Hotel
DAY 7: QUEENSTOWN / FRANZ JOSEF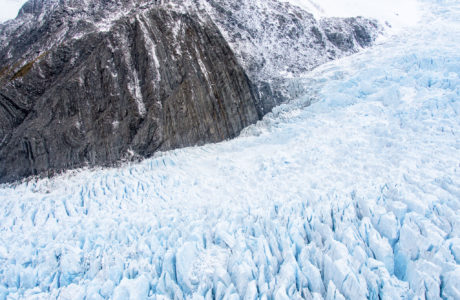 This morning you'll leave the alpine wonderland of Queenstown behind, and begin the passage through Central Otago and out to Westland. On the way, you will stop and visit the faithfully restored gold mining settlement of Arrowtown. From here you will travel over to Cromwell, where you will stop in at a local orchard for a taste of some of the town's delicious stone fruit. It is a day of gorgeous lakes as you travel further into Central Otago and view the vivid blue waters of Lake Hawea, followed by Lake Wanaka, where the shoreline is charmingly lined by poplars and willows. Our destination for today is the extraordinary rivers of ice that make up Franz Josef Glacier. You may want to get up close and personal with the glaciers on an optional experience helicopter flight (weather permitting).
Accommodation: Te Waonui Forest Retreat
DAY 8: FRANZ JOSEF / CHRISTCHURCH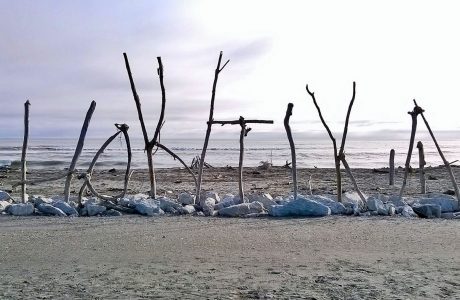 Head off to the drift-wood strewn beaches of Hokitika. Here you will visit a pounamu (jade) factory for the chance to see master carvers at work creating intricate pieces of jewellery and art. Later, travel inland to the small settlement of Arthur's Pass. Board the TranzAlpine train and head back to the East Coast and Christchurch. This spectacular train journey dates to 1914 and is rated as one of the world's most scenic train trips.
Accommodation: Distinction Christchurch
FAREWELL FROM CHRISTCHURCH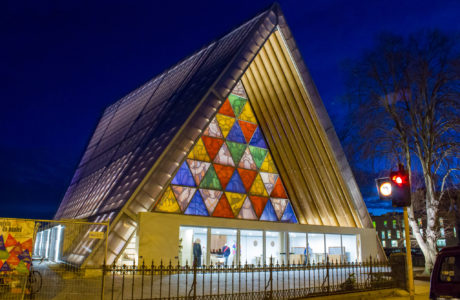 This morning see how Christchurch is rebuilding after the devastating earthquakes of 2010 and 2011, and pop into the Transitional Cathedral in Latimer Square, the temporary home of the Christchurch Cathedral. It is the world's only cathedral made substantially of cardboard! After a Christchurch city sights tour, you're invited to a Be My Guest morning tea at the home of Tim and Isabelle Weston, owners of Britten Stables. Formerly horse stables for nearby Mona Vale Gardens and following that, the birth place of the worldrecord- setting Britten V1000 motorcycle designed and built in the garage by Isabelle's late father, John Britten. The couple restored the original charm of The Britten Stables and transformed it into the exquisite home that it is today. This evening join your Travel Director for a Farewell Dinner.
No matching reviews found.
01 October 2020 - 31 March 2022
| Start Date | End Date | Single traveller | Share / Twin | Guaranteed departure | Availability |
| --- | --- | --- | --- | --- | --- |
| 9 July 2021 | 18 July 2021 | $5,900 NZD | $4,405 NZD | Yes | Enquire / Book |
| 27 August 2021 | 5 September 2021 | $5,900 NZD | $4,405 NZD | No | Enquire / Book |
| 10 September 2021 | 19 September 2021 | $5,900 NZD | $4,405 NZD | Yes | Enquire / Book |
| 24 September 2021 | 3 October 2021 | $5,900 NZD | $4,405 NZD | No | Enquire / Book |
| 8 October 2021 | 17 October 2021 | $6,575 NZD | $4,880 NZD | Yes | Enquire / Book |
| 15 October 2021 | 24 October 2021 | $6,575 NZD | $4,880 NZD | No | Enquire / Book |
| 22 October 2021 | 31 October 2021 | $6,575 NZD | $4,880 NZD | Yes | Enquire / Book |
| 12 November 2021 | 21 November 2021 | $6,575 NZD | $4,880 NZD | No | Enquire / Book |
| 19 November 2021 | 28 November 2021 | $6,575 NZD | $4,880 NZD | No | Enquire / Book |
| 26 November 2021 | 5 December 2021 | $6,575 NZD | $4,880 NZD | Yes | Enquire / Book |
| 3 December 2021 | 12 December 2021 | $6,575 NZD | $4,880 NZD | No | Enquire / Book |
| 10 December 2021 | 19 December 2021 | $6,575 NZD | $4,880 NZD | No | Enquire / Book |
| 17 December 2021 | 26 December 2021 | $6,575 NZD | $4,880 NZD | No | Enquire / Book |
| 24 December 2021 | 2 January 2022 | $6,575 NZD | $4,880 NZD | No | Enquire / Book |
| 31 December 2021 | 9 January 2022 | $6,575 NZD | $4,880 NZD | No | Enquire / Book |
| 7 January 2022 | 16 January 2022 | $6,575 NZD | $4,880 NZD | No | Enquire / Book |
| 14 January 2022 | 23 January 2022 | $6,575 NZD | $4,880 NZD | No | Enquire / Book |
| 21 January 2022 | 30 January 2022 | $6,575 NZD | $4,880 NZD | No | Enquire / Book |
| 28 January 2022 | 6 February 2022 | $6,575 NZD | $4,880 NZD | Yes | Enquire / Book |
| 4 February 2022 | 13 February 2022 | $6,575 NZD | $4,880 NZD | No | Enquire / Book |
| 11 February 2022 | 20 February 2022 | $6,575 NZD | $4,880 NZD | Yes | Enquire / Book |
| 18 February 2022 | 27 February 2022 | $6,575 NZD | $4,880 NZD | No | Enquire / Book |
| 25 February 2022 | 6 March 2022 | $6,575 NZD | $4,880 NZD | Yes | Enquire / Book |
| 4 March 2022 | 13 March 2022 | $6,575 NZD | $4,880 NZD | No | Enquire / Book |
| 11 March 2022 | 20 March 2022 | $6,575 NZD | $4,880 NZD | No | Enquire / Book |
| 18 March 2022 | 27 March 2022 | $6,575 NZD | $4,880 NZD | Yes | Enquire / Book |
| 25 March 2022 | 3 April 2022 | $6,575 NZD | $4,880 NZD | No | Enquire / Book |